Topic: Family Collection of Templates - exclusively for SmartSHOW 3D users!
*Offer now expired*
The Christmas season is the time to think of your family and to make sweet surprises. With this in mind, we have prepared a special surprise for you! We selected the best designer templates that focus on the family theme, and created the "Family Collection".
The "Family Collection" comprises 70+ gorgeous slide styles for SmartSHOW 3D. You will find six popular template sets inside: "Our Family", "Happy Birthday", "Merry Christmas", "Kids Photo Album", "A Life Story", and "Beach Vacation".
And now comes the best piece of news:
registered users of SmartSHOW 3D can get the "Family Collection" at 60% OFF until December 20, 2014!
Order your "Family Collection" now!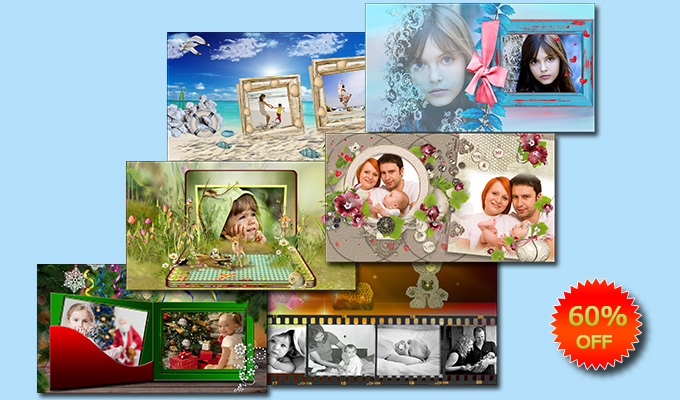 How to use the styles from the "Family Collection" for your own project, such as a "happy birthday" slideshow or a Christmas video postcard? Just add the slide templates to your SmartSHOW 3D software, pick the ones that suit the occasion, insert your photos, and add a music track - bingo, a professional-level slideshow with sparkling animation effects is ready! Feel free to play with the slides order and customize the embellishments to give your slides a unique look. You can even add a personal touch with voice commentaries!
Note: the templates from the "Family Collection" can only be used with SmartSHOW 3D software.